Smacking my head on my forehead...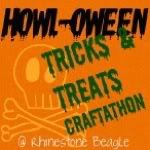 I'm guest blogging today for the
HOWL-OWEEN Tricks and Treats Craftathon
over at
Rhinestone Beagle
--
a seriously awesome crafting, cooking, and gardening blog that also as you might have guessed is highly dog infused!!
Has your pup (or cat) recieved a last minute invitation to a Halloween Ball and have nothing to wear? Are you interested in joining a Halloween pet contest or parade and have no costume in sight? Do you just like dressing up your dog maybe for the big game or no reason at all?
Well fear not...
Super Sammy is here to the rescue!!
Ta, ta, ta, TA!!!
So, get on over to
Rhinestone Beagle
and make your very own dog, cat, or people cape so you too can get your
super on!!
**Disclaimer... wearing the super cape don't guarentee you can fly, leap buildings in a single bound, or see through walls.**