I am so proud to say that I have finished my first King sized quilt.
Am I nuts.
Oh yes.
Am I smitten with myself?
You better believe it!
This was an exercise in discipline and commitment, but the results were totally worth every step of the journey!
I had a lot of fun quilting this one too. I called them organic loopies and put them around each of the diamonds.
Doesn't it make you want to just jump into this hammock?
This was also the first time I used cotton batting. And I'm loving how easy it was to work with. It really helped me cut down on the wrinkles and movement I am used to when sandwiching. I also like how it reduces the bulk, but is still nice and heavy.
Looks great all rolled up, doesn't it?
I adore the mix of neutrals, reds, and blues! I tried to make it girly with a pinch of boy thrown in. The mister is still hesitant about all the fru-fru and flowers, but is excited to see it completed!
The back is a combination of big pieces of navy, beige, and a fabric I found with animals on it like koalas, pandas and elk.
I also didn't realize this in the moment, but the red binding matches the red color of the animals!
Total win!
The question I bet I will get is so, do you think you will make another king size?
My answer.
Heck yes!
In fact, if you tune in tomorrow you will see what I am planning next. And yes, it's another big one!
Oh, yes I could really cuddle up with a book and just stay here all day!
Thanks for following along with my journey on this one. I really enjoyed your encouragement and input along the way!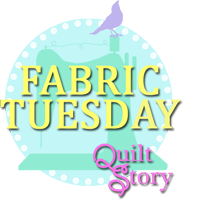 日本のための多くの愛
Much love for Japan